13 Best Things to Do in Oak Harbor Washington [From a Local]
Find the best things to do in Oak Harbor Washington on Whidbey Island.
We've curated a list of the best things to do in Oak Harbor Washington to make the most of your time in this small town.
Oak Harbor on Whidbey Island is the perfect place for a weekend getaway in Washington. There are plenty of shops and restaurants to explore, as well as parks and beaches.
Oak Harbor is a beautiful place to visit with lots of fun things to do, and with its convenient location, it's the perfect destination for a weekend getaway in Washington.
Quick facts about Oak Harbor, Washington
Oak Harbor is a city located on Puget Sound in the state of Washington. The city is situated on the Strait of Juan de Fuca, along the northeastern coast of Whidbey Island. Deception Island is located just offshore from Oak Harbor.
Oak Harbor, the largest city on Whidbey Island, was named after the Garry Oak trees that you can find in this area.
Naval Air Station Whidbey Island is located in the town of Oak Harbor and has been a part of the community since 1942. NAS Whidbey Island has two bases that are five miles apart – the Seaplane Base and Ault Field.
Famous Deception Pass Bridge connects Anacortes and Fidalgo Island to Oak Harbor. This stunning bridge was built in 1935 and is one of the most popular state parks in Washington.
Weather in Oak Harbor, Washington
The climate in Oak Harbor is mild, with average temperatures ranging from highs in the mid-60s Fahrenheit in summer to lows in the mid-30s Fahrenheit in winter. Precipitation is moderate, averaging around 30 inches per year. Snowfall is rare, but does occur occasionally.
What to Pack when visiting Oak Harbor WA
Waterproof hiking boots: If you plan on doing any hiking, you may want to invest in a solid pair of waterproof hiking boots.
Rain jacket: While Whidbey Island has significantly less rain than the rest of Washington, you never know what the weather will be like. It's always wise to bring a rain jacket to keep you warm and dry.
Travel backpack: We bring this travel backpack wherever we go. It can fit essentials, as well as my laptop, resusable water bottle, and it even has a USB charging port.
Best Time to Visit Oak Harbor, Washington
There's no bad time to visit Oak Harbor and Whidbey Island, but some times are better than others. The summer months are the busiest, with tourists flocking to the island to enjoy the warm weather and beautiful beaches. However, this also means that accommodations can be more expensive and crowded during this time.
If you're looking for a quieter experience, autumn is a great time to visit. The leaves start changing color in October, creating a stunning backdrop for hikes and drives around the island. And, since the tourist season is over, you'll be able to find deals on accommodations and activities. Just be sure to pack a coat, as the nights can be chilly this time of year.
Winter can be a bit rainy, but it's also the best time to see the migrating whales off the coast.
And spring is perfect for enjoying the island's many wildflowers. The weather is mild, the days are longer, and the flowers are in bloom. Plus, there are plenty of events and activities to enjoy, from art festivals to farmer's markets which start in the spring around April and go through October.
So no matter when you visit, Oak Harbor and Whidbey Island have something to offer.
How to Get to Oak Harbor, Washington
Oak Harbor is located 29 miles NW of Everett and 49 miles north of Seattle, in the Seattle – Bellevue – Everett metropolitan area. It is the most northern town on Whidbey Island in Island County.
From Seattle, Washington, it is possible to get to Whidbey Island via ferry or by driving over the Deception Pass Bridge.
The easiest way to reach Oak Harbor from Seattle is by the Whidbey Island ferry, which takes around 1.5 hours. You would take the ferry from Mukilteo to Clinton. It is possible to bring a car on the ferry for an additional charge.
From Seattle, you would drive north on I-5, and take exit 182. Then merge on state highway-525N and follow signs for the ferry. Head north on State Route 20 E to get to Oak Harbor, which is about 50 minutes away.
If you don't want to take the ferry, you can also take I-5 north to Exit 226 and follow the signs for the Deception Pass Bridge. Once you're on Whidbey Island, continue north on Highway 20.
Best Things To Do In Oak Harbor Washington
Oak Harbor, Washington is an amazing place to explore and have some fun. Whether you're looking for a relaxing weekend getaway or an action-packed adventure, Oak Harbor has something for everyone. Here are just a few of the great things to do in this beautiful Pacific Northwest town.
Find the best things to do on Whidbey Island.
Visit Deception Pass State Park
This popular park boasts stunning views of the San Juan Islands and offers plenty of recreation opportunities like camping, boating, fishing, biking, picnicking and hiking. The Deception Pass Bridge connects Whidbey Island to Fidalgo Island.
The views from Deception Pass Bridge are some of the most gorgeous you'll find in the US, which is why this is one of the most popular Washington State parks. You can simply park and walk over the bridge for breathtaking views of Deception Island.
You can walk under the bridge for a closer look, as well. Then if you would like to visit the beach from below to get a different view of the bridge, it's only a short distance to the parking lot.
Shop and Dine in Historic Downtown Oak Harbor
Take a stroll down Historic Downtown Oak Harbor to find unique shops and yummy places to eat.
We recommend stopping at Whidbey Coffee for a special latte, then grabbing a bagel sandwich from Whidbey Island Bagel Factory for breakfast. They serve authentic New York style bagels that are absolutely delicious!
Then you can spend the morning exploring a variety of quaint shops on Pioneer Way.
Purple Moon is an unique gift shop with many different things you will fall in love with. Discover some new art at Garry Oak Gallery, pick up some local honey from Hive Jive, check out the Geez Skate Shop, and pick up some homemade body products from Little Town Cottage.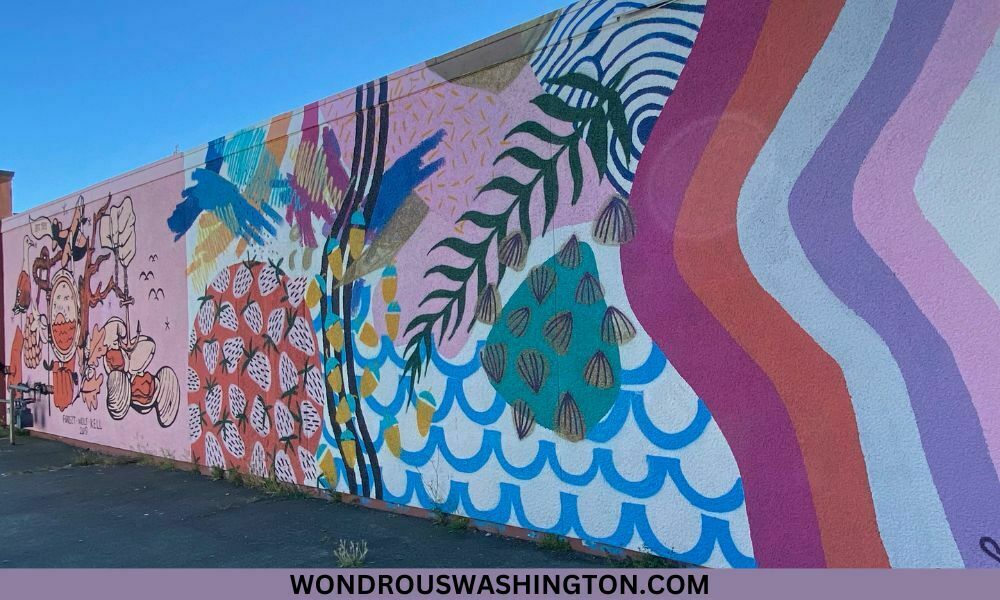 After lunch, grab some ice cream or chocolate from Popsies as you stroll through the plaza, take some selfies at the Allgire Project murals, or grab a glass of wine at The Tipsy Jellyfish wine bar.
If you only have time to hit one store, then we highly recommend PNW Vibes Market for the best local Pacific Northwest-themed items you can find on Whidbey Island!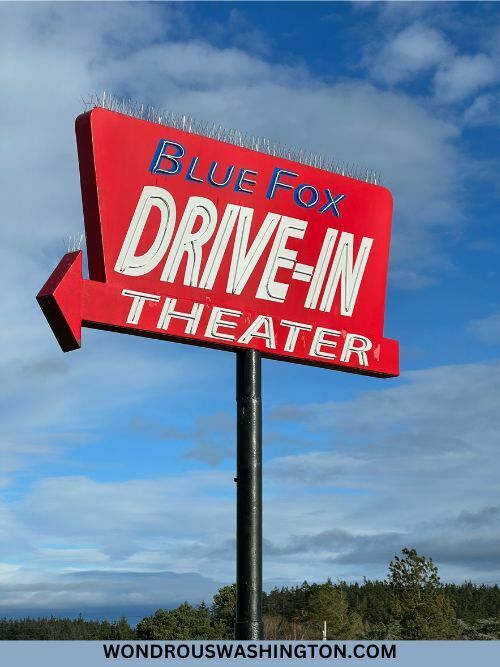 Spend an afternoon at the Blue Fox Drive-In Movie Theater
When you've had your fill of shopping, head over to one of the last few remaining drive-in movie theaters in Washington state.
The Blue Fox Drive-In features two movies for one low price. Admission is per person but very affordable with adults costing $7, and children 5-10 only $1.00.
They have Brattland Go-Karts and an arcade to keep you busy until the movie begins. You can also grab food from their snack bar that includes pizza, hot dogs, cheeseburgers, fries, ice cream, pretzels, popcorn, candy, and more.
If you're over 21, you can also grab a drink at their BackLot Tavern, which features 12 rotating taps and an assortment of can and bottle drinks.
The movies play back to back beginning at dusk. Spending an evening at the Blue Fox Drive-In is one of the most special and memorable things to do in Oak Harbor Washington.
Catch a show at Whidbey Playhouse
Whidbey Playhouse has been part of the community since 1966. They host a variety of performances throughout the year, ranging from musicals to comedies to dramas. Concerts are also held periodically at the theater.
Recreational activities
Oak Harbor is located on the Puget Sound region, making it the perfect place to go sailing, kayaking or paddleboarding. There are several rental companies in town that offer kayaks, stand-up paddleboards, and other equipment.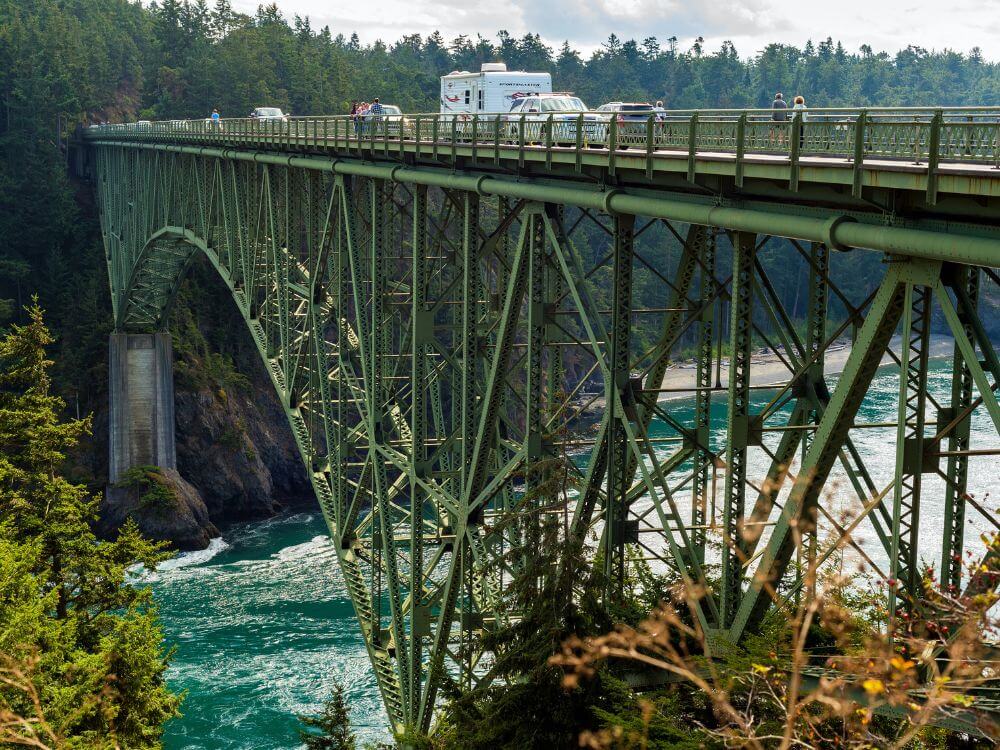 Hiking
There are many trails to choose from if you want to go hiking or camping in Oak Harbor Washington.
Deception Pass State Park has a lot of impressive trails but is also very busy as its a popular area to explore. Some of the best trails to discover at Deception Pass are the North Beach Trail and Goose Rock. Dogs are allowed on a leash.
Distance: North Beach Trail – 2 miles, Goose Rock – 3 mile loop
Elevation Gain: Goose Rock – 500 feet elevation gain
Parking Pass: You will need a Washington State Discover Pass.
Dugualla State Park is another great trail to hike in Oak Harbor. Dogs are allowed on a leash. You can head down to the beach or explore some of the other trails in the park.
Distance: 2 miles round trip to the beach and back
Elevation Gain: 400 feet
Parking Pass: None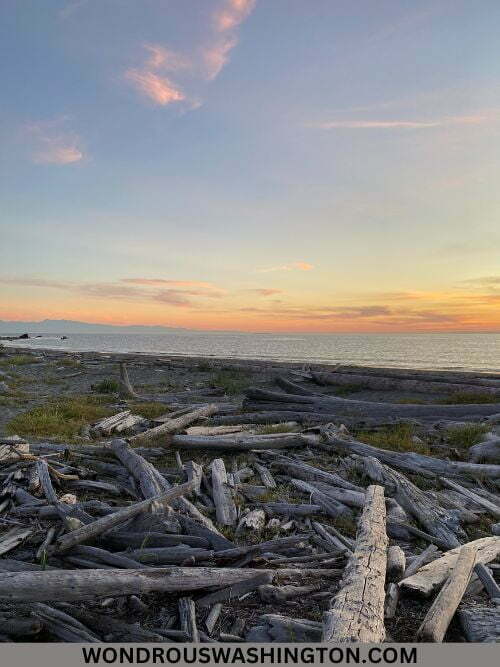 Beachcombing
Oak Harbor is home to several lovely beaches, each with its own unique character. These are our favorites to explore.
Joseph Whidbey State Park has a beautiful beach that faces Victoria, B.C., Lopez Island and the Strait of Juan de Fuca. It is a great spot to go beach combing, picnicking, or to explore many of the trails.
Libbey Beach Park has picnic tables, BBQ grills, and a vista view of the Olympic Mountains, San Juan Islands, and the Strait of Juan de Fuca.
Hastie Lake County Park also offers stunning views of the Olympic Mountains and Puget Sound. You can find tide pools full of crabs and anemones. You can just pull off the road and park by the rocks to watch the sunset in this magical spot.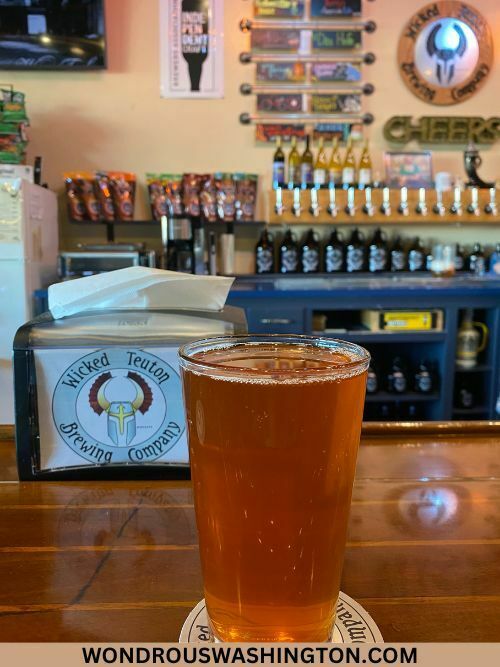 Grab a craft brew or glass of wine
Oak Harbor is home to a few local Whidbey Island breweries that serve craft beer.
Flyer's Brewery and Restaurant is another great place to enjoy some local brews. Their restaurant serves food such as burgers, steak, wings, seafood and more. They also have 12 craft brew taps, cocktails, martinis, and more.
Wicked Teuton Brewing is our favorite spot to grab a beer, and they host many events including paint and sip nights, trivia nights, and live music to name a few. They have 20 great beers and ciders on tap, as well as craft sodas, too.
The Tipsy Jellyfish is a cozy local wine bar that features a collection of global wines, as well as locally sourced craft beer, cider and seltzer. You can also find bar snacks such as charcuterie, flatbreads, and other specials.
Related Post: 12 Best Whidbey Island Wineries + Wine Shops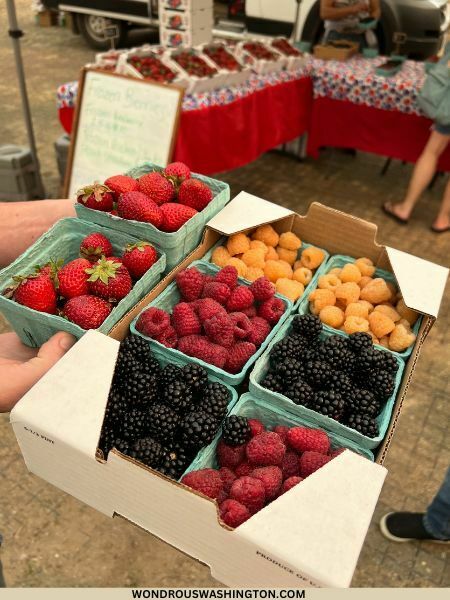 Visit a local farmers market or farm stand
Whidbey Island is home to many farms so eating local is easy to do. The island has a long tradition of farming, and because of the abundance of local food, residents have access to fresh and locally grown produce, and can help support the island's economy.
That being said, Oak Harbor is home to numerous farm stands and markets. Visiting any one of these is one of our favorite things to do in Oak Harbor Washington.
Whidbey Farm and Market is a local favorite that sells locally sourced goods including their own pasture-raised beef and pork. They also have an espresso stand and Lopez Island Creamery ice cream.
When shopping at Whidbey Farm and Market, you can find a large assortment of products from local vendors on Whidbey Island.
During the summer you can find live music on the weekends, and during the fall you can find a hay pyramid, corn maze, and hay rides.
The Farm Stand at K&R Farms is our favorite spot to get fresh local produce in Oak Harbor. The Farm Stand features over 32 flavors of ice cream, hand-made waffle cones, fresh produce at a discount, fresh local raw honey, fresh-cut flowers, and 20 different flavors of shave ice.
They are open from April through October. In the late summer and fall, you can visit their sunflower field, corn maze, and pumpkin patch. You can frequently see and hear U.S. Navy jets flying overhead during your visit from the military base nearby.
Farm stands: One of our favorite things about Whidbey Island is the sheer amount of local farm stands you can visit on your trip. Nothing beats grabbing fresh produce from a local farm.
Some of the farm stands you can find in Oak Harbor are Case Farm, Maya Farm, One Willow Farm, Silva Family Farms, and many more. Find the full list of Whidbey Island farm stands and what each farm sells at their honesty stand.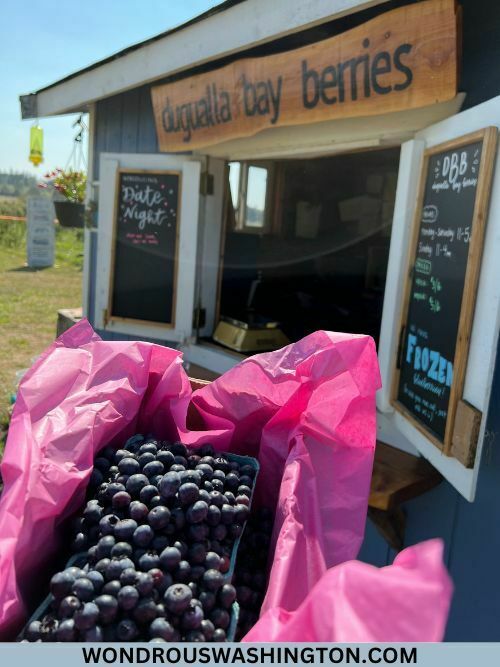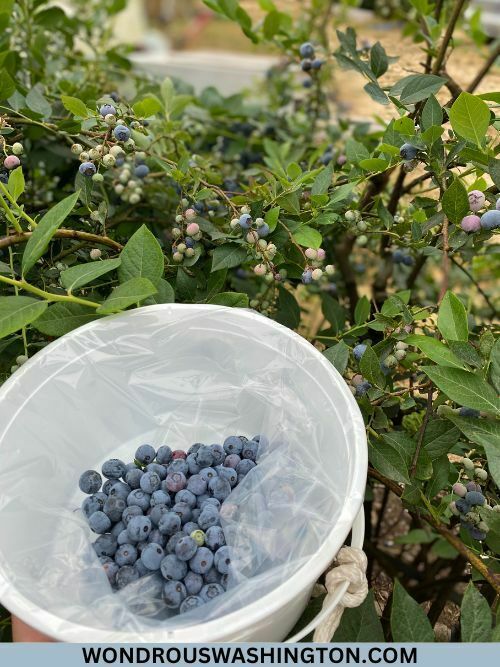 U-Pick
If you happen to visit during the summer months, you can enjoy u-pick season at Oak Harbor's local farms. From August through October, you can find blueberry u-pick at both Silva Family Farm and Dugualla Bay Farm in Oak Harbor.
Pacific Northwest Naval Air Museum
History buffs, aviation enthusiasts, and kids alike will enjoy a trip to this museum in Oak Harbor. The Pacific Northwest Naval Air Museum in Oak Harbor is a must-see for anyone interested in flight or the history of naval aviation.
The museum features a variety of interactive exhibits, military artifacts, as well as two flight simulators, making it a great place to learn about the science of flight and the role of naval aviation in history. The museum is also home to a number of rare and historic aircraft, making it a fascinating place to explore.
Cuddle with baby goats
Cuddling with baby goats is a unique and fun way to spend an afternoon. At North Whidbey Farm, you can enjoy the company of these friendly animals while taking in the fresh air and beautiful scenery.
This opportunity only takes place for a few weeks in the spring, so if you happen to visit then, try to stop by for this special activity!
Oak Harbor Music Festival
The Oak Harbor Music Festival is an annual event that takes place every October and celebrates the best of local music. The festival features a wide range of musical genres, from classical to rock, and attracts thousands of visitors each year.
In addition to the musical performances, the festival also offers a variety of food and drink vendors, as well as a variety of activities for children. It is a great festival to plan to attend if you are visiting Oak Harbor in the fall.
Places to Eat in Oak Harbor WA
We already mentioned the best breakfast places in Oak Harbor. But if you are looking for great food to have for lunch or dinner in Oak Harbor, Washington, you'll want to check out some of these top-rated restaurants.
For a casual lunch, try the local favorite, Jumbo Burrito, where you can enjoy authentic mexican food including giant jumbo burritos, carne asada fries, cali burritos, tacos, quesadillas, and favorite desserts such as flan, gelatina, bolillo, teleras, arroz con leche, and choco flan! Our favorite is the carne asada cali burrito!
For a more upscale dining experience, Frasers Gourmet Hideaway offers steaks, seafood, and more in a warm and inviting setting. Reservations are recommended.
And if you're looking for a place to enjoy a romantic dinner for two, rustica italian restaurant + bar is the perfect choice, with its intimate atmosphere and delicious cocktails. This farm-to-fork italian restaurant features local beers, ciders, wines, spirits and liquers, as well as hand-made pastas and a menu that features Whidbey Island's farms and fisheries.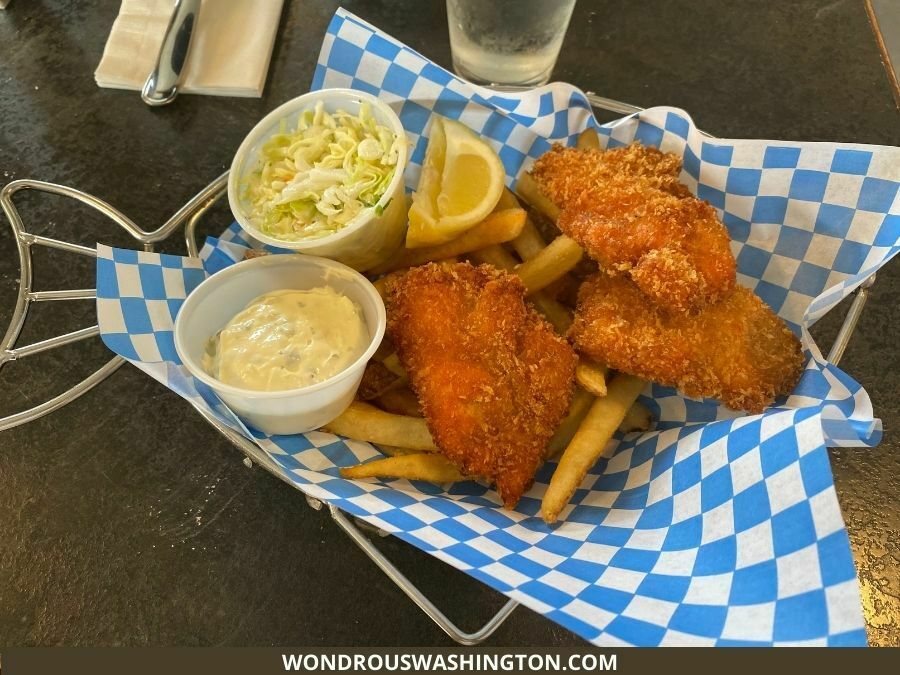 Some other favorite restaurants in Oak Harbor to check out are:
Veteran-owned Hale's Kitchen for some of the best fried chicken and mac-n-cheese you'll ever eat!
Seabolt's Smokehouse for Whidbey Island's best clam chowder and fish & chips!
Orlando's Southern BBQ + Bar for mouthwatering BBQ and tasty drinks, as well as live entertainment.
Mai Thai Restaurant for authentic thai cuisine such as phad thai, thai chow mein, phad see ew, curry, and many other dishes you'll love!
Whatever your taste, you're sure to find a great restaurant in Oak Harbor that will make your dining experience truly memorable.
Find more reviews of the best restaurants in Oak Harbor, Washington.
Places to stay in Oak Harbor
We recommend checking out Captain Whidbey just a little further south in Coupeville. This dreamy inn is simply magical. It has a beautiful back porch, dock, restaurant, and more.
Why You Should Visit Oak Harbor, Washington
Whether you're looking for a day trip or wanting to explore all that the city has to offer, there's something on this list of things to do in Oak Harbor Washington for everyone. If you spend a few days on Whidbey Island, make sure to explore the rest of the island for more exciting things to discover.
Which of these things to do in Oak Harbor Washington are you looking forward to doing?