Best Restaurants in Oak Harbor Washington
A local's guide to the best restaurants in Oak Harbor, Washington.
As a local Whidbey Island resident, I've got the full scoop on the best restaurants in Oak Harbor, Washington!
Living on Whidbey Island has its perks. For starters, I'm surrounded by breathtaking scenery and tons of outdoor activities to explore – but that's not all! Whether you're a foodie or just looking for some good eats in town, there are plenty of fantastic restaurants around here as well.
In this blog post, I'll be sharing my experiences as a local when it comes to the best places to eat in Oak Harbor, Washington.
Make sure to check our our post on things to do in Oak Harbor, Washington.
Places to Eat in Oak Harbor: Breakfast and Coffee
Here in Oak Harbor, we do have three local Starbucks for those who like to stick to what they know.
Where:
32650 State Rte 20, Oak Harbor, WA 98277
31565 S Oak Harbor St, State Rte 20, Oak Harbor, WA 98277
31270 W Pioneer Way, Oak Harbor, WA 98277

But I highly recommend venturing out and checking out some of our local coffee spots.
We recommend stopping at Whidbey Coffee for their special flavor latte of the day. They have new flavors daily, of which my personal favorite is their iced vanilla latte with honey and cinnamon called "Love Potion." Whidbey Coffee also serves breakfast pastries, and I highly recommend their blueberry scones.

They have two locations in Oak Harbor.
Where:
980 SE Pioneer Way, Oak Harbor, WA 98277
31275 State Rte 20, Oak Harbor, WA 98277
You can also check out one of the many espresso stands in Oak Harbor (Jet Java, Diedrich Espresso, Hot Shot Espresso) for your caffeine fix.

Where:
Jet Java: 34933 State Rte 20, Oak Harbor, WA 98277
Diedrich Espresso: 987 Ault Field Rd #3620, Oak Harbor, WA 98277
Hot Shot Espresso: 960 NE Midway Blvd, Oak Harbor, WA 98277
Want a quick breakfast as you prepare for your day? Grab a delicious bagel sandwich from Whidbey Island Bagel Factory. They serve authentic New York style bagels and they are our favorite place to grab a quick and inexpensive breakfast on the go. (PS- Are you a Red Bull fan? Try their Red Bull spritzer for a pick me up instead of coffee!)
Where:
715 SE Fidalgo Ave, Oak Harbor, WA 98277
If you prefer a quick pastry for your meal on the go, then we recommend checking out Chris' Bakery for breakfast sandwiches, muffins, doughnuts and other yummy pastries.
Where:
1025 NE 7th Ave, Oak Harbor, WA 98277
Best restaurants in Oak Harbor, Washington for lunch and dinner
If you are looking for great food to have for lunch or dinner in Oak Harbor, Washington, then here are some of my favorite top-rated restaurants.
For lunch, we love Jumbo Burrito, where you can enjoy authentic mexican food from a local family.
They serve giant jumbo burritos (they are huge!), carne asada fries, cali burritos, tacos, quesadillas, and you can also find freshly baked desserts such as flan, gelatina, bolillo, teleras, arroz con leche, and choco flan!
Our favorite thing to get is the carne asada cali burrito! We promise you'll love Jumbo Burrito as much as the rest of us!
Where:
31780 State Rte 20, Oak Harbor, WA 98277

Note: As of 12/2022, they are closed on Sundays and Mondays.
If you want to try some of the best fried chicken and mac-n-cheese you'll ever eat, then check out Veteran-owned Hale's Kitchen. They serve fried chicken tenders and sandwiches, macaroni and cheese, garlic toast, seasoned fries, and more.
Where:
32185 State Rte 20 Unit 4A, Oak Harbor, WA 98277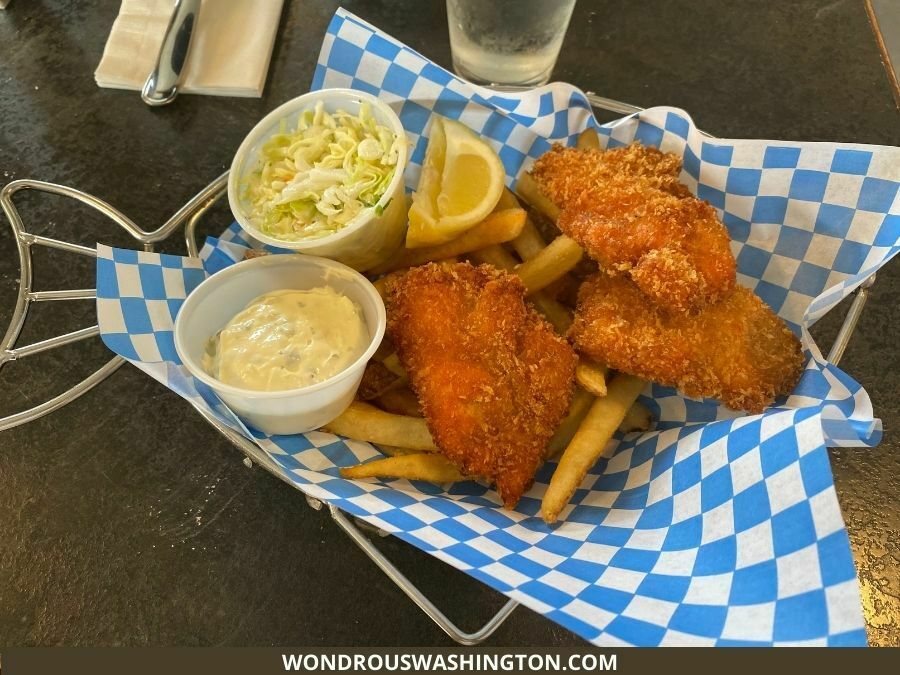 To try some of Whidbey Island's best clam chowder and fish & chips, then head over to Seabolt's Smokehouse.
Where:
31640 State Route 20, Ste 3, Oak Harbor
We are lucky to have two great options for mouthwatering BBQ in Oak Harbor. Get your BBQ fix at The BBQ Joint or Orlando's Southern BBQ + Bar. While the BBQ Joint has a more casual dining experience, Orlando's offers a full bar with great mixed cocktails and live entertainment on occasion.
Where:
The BBQ Joint: 601 NE Midway Blvd, Oak Harbor, WA 98277
Orlando's BBQ: 656 SE Bayshore Dr Ste 1, Oak Harbor, WA 98277
Mai Thai Restaurant serves authentic thai cuisine such as phad thai, thai chow mein, phad see ew, curry, and many other dishes you'll love!
We order take out from Mai Thai on a weekly basis because it's our favorite restaurant in Oak Harbor! My husband gets the beef thai chow mein with a spice level of 3, while I opt for the Chicken Phad See Ew, which comes with wide noodles, egg, broccoli, and mushrooms.
Where:
91 NE Midway Blvd, Oak Harbor, WA 98277
If you are in the mood for mexican food for dinner, then check out Esteban's Mexican Restaurant. Esteban's is another restaurant that we frequent in Oak Harbor. The margaritas are huge and delicous, and the cheese dip and chimichangas are our favorite!
Where:
1351 SW Barlow St, Oak Harbor, WA 98277
For a more upscale dining experience, Frasers Gourmet Hideaway offers steaks, seafood, and more in a warm and inviting setting. Visiting Fraser's is an unbelievable experience for any foodie. Not only does the food taste as amazing as it looks, with flavors that tantalize your taste buds and will keep you coming back for more, but the presentation of every dish is almost too beautiful to disturb. Reservations are recommended.
Where:
1191 SE Dock St #101, Oak Harbor, WA 98277
If you're looking for a place to enjoy a romantic dinner for two, rustica italian restaurant + bar is the perfect choice, with its intimate atmosphere and delicious cocktails. This farm-to-fork italian restaurant features local beers, ciders, wines, spirits and liquers, as well as hand-made pastas and a menu that features Whidbey Island's farms and fisheries.

Where:
670 SE Pioneer Way #102, Oak Harbor, WA 98277
Best places to eat in Oak Harbor Washington: Dessert
When you're in the mood for dessert, then don't miss the opportunity to experience Mad Batter Bakehouse. Fans of the popular franchise, Crumbl, will find that our local bakery is a thousand times better! They serve cappuccinos, coffee, ice cream, desserts, floats, and the best cookies you'll ever eat!
Where:
800 SE Pioneer Way, Oak Harbor, WA 98277
The Farm Stand by K&R Farms is a hit with the locals and for good reason. They sell 32 flavors of ice cream and make their own waffle cones, as well. I always get the huckleberry ice cream in a waffle cone and highly recommend the flavor to local visitors. The Farm Stand also sells local produce, honey, shaved ice, and flowers. They are open from April through October.
Where:
36699 State Rte 20, Oak Harbor, WA 98277
Whatever your taste, you're sure to find a great restaurant in Oak Harbor that will make your dining experience truly memorable. With its great variety of restaurants from family-style establishments to upscale eateries and small cafes, Oak Harbor is sure to deliver an amazing meal every time.
Which of these restaurants in Oak Harbor Washington will you check out?