14 Romantic Things to do on Whidbey Island Getaway
A local's guide to the most romantic things to do on a Whidbey Island getaway.
Are you looking for a romantic weekend getaway with your special someone? Whidbey Island is the perfect place! Whether you're looking to explore the outdoors, take in some history and culture, or just relax and unwind, there are plenty of romantic experiences to choose from. Here are some of the most romantic things to do on Whidbey Island – from a local.
Related post: Exploring Whidbey Island Washington: The Ultimate Local's Guide
14 Romantic Things to do on Whidbey Island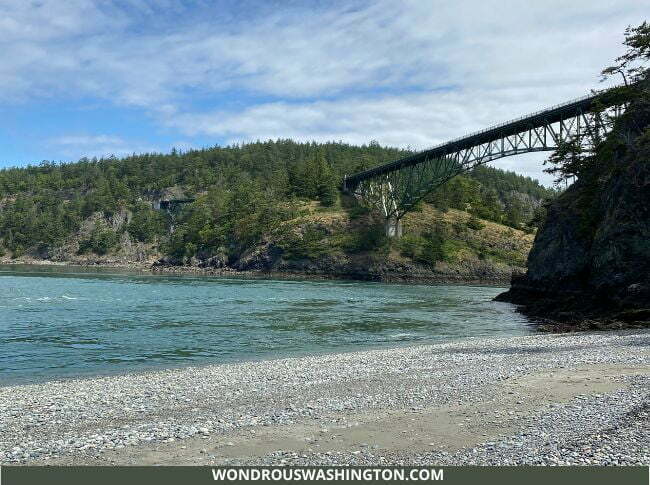 Visit Deception Pass State Park
A trip to Deception Pass State Park offers beautiful views, awesome hiking trails, and lots of outdoor activities. Enjoy a romantic picnic or take a leisurely stroll around the park while enjoying breathtaking views of Puget Sound and its surrounding islands. For the best views, visit at sunset!
Go Wine Tasting
Going wine tasting is always an enjoyable experience, especially when you get to do it on Whidbey Island. Nothing quite beats the fresh air and beautiful views of this part of Washington State as you sip some delicious samples!
Wine tasting gives you a chance to learn all about the different wines while discovering new favorites. I really enjoy the unique flavors of each type, and hearing stories from the knowledgeable owners who make them.
We have many wineries to choose from, but here are a few that will make your visit extra romantic.
If you are visiting during the colder months of the year, Holmes Harbor Cellars offers a heated and covered patio with a beautiful view, as well as 3 igloos to enjoy your own privacy in a romantic environment!
Dancing Fish Vineyards in Freeland offers live music on Friday evenings at their beautiful barn. You must make a reservation in advance and pay an entrance fee, which includes appetizers served to your table. It is the perfect date night spot to enjoy a romantic night out with your partner.
Pick out fresh-cut flowers from a local farm stand
Make your romantic weekend on Whidbey Island extra special by stopping at one of the many farm stands. Pick up some fresh cut flowers for your loved one! Many of our local farm stands sell fresh-cut flowers, but we have a few favorites.
Some of our favorite farm stands to purchase a gorgeous bouquet of flowers from are Foxtail Farm in Freeland, Lovelight Flower Stand in Clinton, and Monkey Hill Flowers in Oak Harbor.
Make sure to check that these stands are open as their hours and schedules change with each season. You are more likely to find flowers during the spring and summer months.
Check out local artwork
Get into an artsy mood by visiting local galleries and art venues such as Penn Cove Gallery in Coupeville or Garry Oak Gallery in Oak Harbor, where you can admire unique artwork from local artists.
Visiting on the first weekend of the month? Check out the First Saturday Art Walk in Langley, where you can browse art galleries from 5-7 PM to meet featured artists. Some galleries may serve complimentary wine and hors d'oeuvres, as well as feature live music.
Are you interested in taking a piece of Whidbey home with you? Make sure to explore the artistic treasures of Timothy Haslet, a talented local artist! Timothy captures the beauty of Whidbey Island through vibrant expressionist paintings that convey vivid emotions through bold colors and textures. The landscapes he paints bring the magic of Whidbey alive with vivid hues, allowing viewers to experience the beauty of the island in a truly unique way.
Spend some time at the beach
Nothing says romance quite like taking a leisurely stroll along the beach at sunset with your significant other hand-in-hand. Enjoy breathtaking views of the water while savoring every moment together!
We have many beaches on Whidbey Island, but a few to enjoy for a romantic stroll are Double Bluff Beach in Freeland, Fort Ebey Beach in Coupeville, or Joseph Whidbey State Park beach in Oak Harbor. These are lesser-known than popular Deception Pass State Park (which also boasts beautiful beaches – North Beach, especially). so you will be able to enjoy a more intimate time with your loved one.
Fort Casey State Park and Admiralty Head Lighthouse
If you're looking for a romantic afternoon spot, look no further than Fort Casey State Park and Admiralty Head Lighthouse. The grounds are filled with scenic views and historical charm.
Spend the day exploring the trails and the beachfront, or explore some of the historical structures at Fort Casey. Afterward, you can spend some time taking in the majestic colours of Admiralty Head Lighthouse perched on steep bluffs above Whidbey Island's attractive shoreline.
Explore a lavender farm
Exploring a lavender farm is the perfect romantic outing for any couple who enjoys the beauty of nature. If you visit Whidbey Island during the summer months of June through August, then head to Western Sun Lavender Farm (formerly Lavender Wind Farm) for this amazing experience.
You can wander through fragrant purple and pink fields and take in the calming scent that lingers in the air. No photo could truly capture just how vibrant and fragrant the gardens were on our visits.
Spend an afternoon at Greenbank Farm
Another one of our favorite romantic things to do on Whidbey Island is to visit Greenbank Farm. Greenbank Farm is filled with beauty as well as lots of things to do, which is why it's often a place we visit for a date day on Whidbey Island!
You can walk the trails, stroll the magnificent gardens, or spend some time shopping. We love the cheese and wine shops! They also have an onsite art gallery, Fire of the Heart.
You can also grab a handmade slice of Whidbey Pie at Old Spots Bistro. I promise it will be the best pie you will ever taste! (I don't even usually like pie all that much, and I absolutely love it!)
They have many different flavors throughout the year including loganberry, marionberry, triple berry, rhubarb, spiced cider apple, and more, depending on what season you visit! (My personal favorites are loganberry and marionberry!)
You can also spend some time wine tasting at Greenbank Farm where you can enjoy wines from local Whidbey Island wineries. During the summer months, they sometimes have wine slushies available, as well! The Loganberry wine slushie is our favorite treat to pair with a slice of Whidbey pie on our date days at the farm!
Go for a sail on the Schooner Suva
Another thing to do on your romantic getaway to Whidbey Island is to take a cruise on the Schooner Suva. This Gatsby-era vessel was built in 1925 and is open to the public for tours and sailing. Take a 2 hour cruise on Penn Cove for a special way to spend time with your loved one while taking in the beautiful scenery from Puget Sound.
Spend an evening at the local drive-in movie theater
Heading to Blue Fox Drive-In for the evening is always a great way to spend a date night on Whidbey Island. There's something special about watching a drive-in movie from the comfort of your car that creates an atmosphere of nostalgia and fun.
But that's not all; it also has an arcade, snack bar, go-karts, and a small tavern to grab a drink! What more could you want? If you're ever looking for a romantic place to have some good old-fashioned fun under the stars, this is the place to head!
The Blue Fox Drive-In is one of the very few drive-ins left in Washington. You can enjoy two movies for the price of one admission. ($7 per person). The Blue Fox Drive-In is open all year round on the weekends, and stays open daily during the summer months.
Grab a fancy cocktail and listen to live music at our local speakeasy, Skein and Tipple
Skein and Tipple opened in 2022, and has remained one of our favorite go-to date spots on Whidbey Island. Located on the south end of Whidbey Island in the town of Clinton, this speakeasy is a yarn store by day, and a cocktail lounge by night.
Here you can find hand-dyed yarn made on Whidbey Island for sale from 12 pm – 4 pm. Then at 5 pm, you can head to the back of the store, to a cozy cocktail lounge that is filled with vintage charm and the perfect vibe. Enjoy one of their many fancy cocktails, and listen to live music. They even feature local Whidbey Island distilleries in a few of their drink options.
We love to get their cheese plate which features an assortment of cheeses including Dutch Gouda, French Brie, English Bleu, Spanish Manchego, and local goat cheeses, along with flatbread and multigrain crackers, baby dills, olives, grapes, and fig jam. It's the perfect compliment to their grapefruit martini, which is my personal favorite cocktail!
They are open Tuesday through Saturday, but always check ahead to make sure they are open before visiting! We promise you'll love this date night spot as much as we do!
Discover local restaurants
For those looking to set the mood, here are our picks for some of the most romantic restaurants on Whidbey Island – perfect for a special night out!
On the north end of the island in Oak Harbor, check out rustica italian restaurant and bar. You can find farm-to-table dining options, and a menu that features local farms, breweries, wineries, and distilleries all over the island.
For an upscale dinner in Oak Harbor, head to Frasers Gourmet Hideaway where you will find a seasonal menu of the freshest local Pacific Northwest ingredients.
Further south in Coupeville, enjoy your romantic meal for two with a view of the Coupeville Wharf and Penn Cove at Front Street Grill, or a waterfront view of the Coupeville ferry terminal at Callen's Restaurant.
And for those looking to eat on the south end of the island, we recommend Gordon's On Blueberry Hill in Freeland or Prima Bistro in Langley.
No matter where you choose to eat, you will find something that you will love. While we love all of these choices, the local restaurant we frequent for our dates nights on Whidbey Island is Callen's Restaurant in Coupeville!
We love their delicious cocktails, and I usually order their Cedar Planked Alaskan Sockeye Salmon, while my husband always gets their Beecher's Flagship Mac & Cheese, (which is delicious and definitely worth a try on your trip!).
Stay in a cozy vacation rental on Whidbey Island
Some of the most romantic places to stay on Whidbey Island are on the south end in Langley, Washington. We recommend the following inns for both a beautiful and romantic weekend: Saratoga Inn, Inn at Langley, and the Boatyard Inn.
If you want to try a bed and breakfast, Comforts of Whidbey is family-owned winery and bed and breakfast that will definitely give you an intimate setting for your romantic getaway, with the added bonus of wine tasting right there on the property, as well. (They are closed for winter 2022-2023 and will reopen in February 2023).
If you prefer to stay farther north on your trip, we recommend Captain Whidbey Inn, which is located in Coupeville. Stay in their Historic Lodge, the idiosyncratic Cabins or the Lagoon Rooms. Built in 1907, this inn also features a restaurant and bar, as well as a lovely view of Penn Cove on their back deck.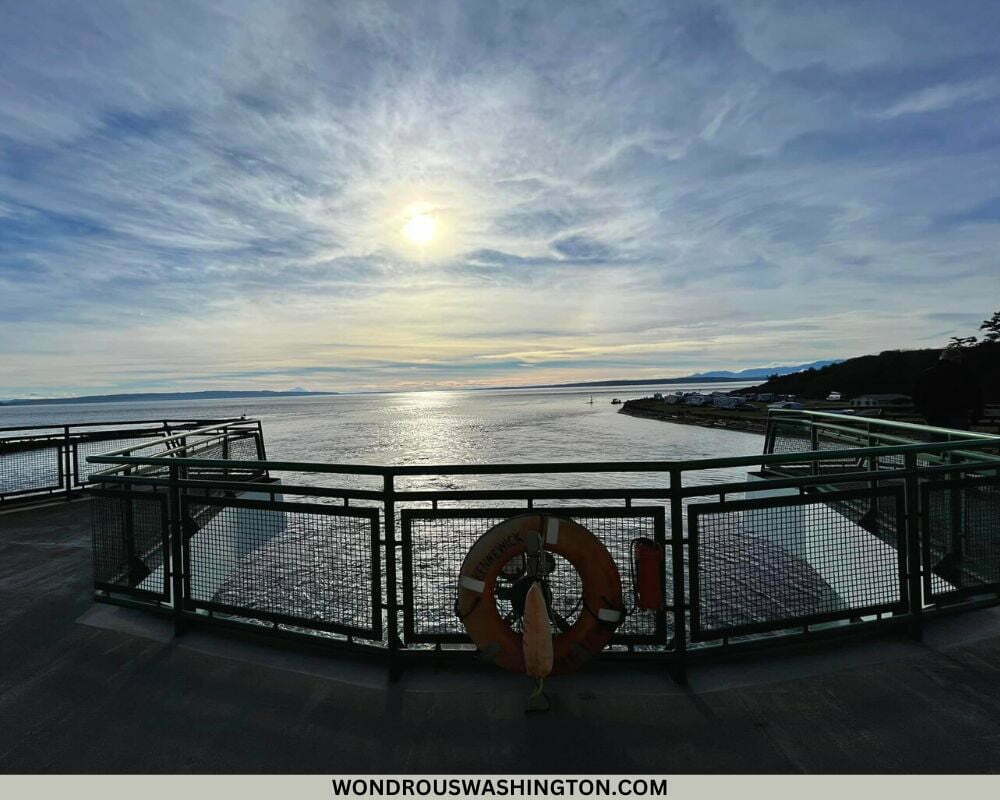 Take a ride on the ferry
Complete your romantic weekend getaway on Whidbey Island by taking a ride on the ferry as you head back to the airport or home. The Whidbey Island ferry features two routes – Coupeville to Port Townsend, and Clinton to Mukilteo.
If you are heading back to Seattle, then you can take the Clinton ferry to Mukilteo which is 45 minutes north of Seattle, and one hour from Seattle-Tacoma International Airport.
You can drive right on to the ferry with your car, or you can walk on, depending on your needs.
A ride on the ferry is included in our itinerary for a romantic getaway on Whidbey Island because it's another intimate way of spending time together with your loved one, as you hold hands, and look out over the picturesque view of the mountains and water on your ride.
Romantic Whidbey Island Getaways
Whidbey Island offers something for everyone who wants to get away from it all but still have plenty of fun things to do together as a couple. From taking in the views at Deception Pass to relaxing stays at cozy inns, there are plenty of romantic experiences that are sure make your vacation memorable – no matter how long or short it may be!
With its breathtaking views, charming townships, and diverse cultural offerings – there really is something here for everyone who wants to enjoy some quality time together while discovering what this beautiful island has to offer!
Find more things to do on Whidbey Island.
We hope you enjoyed this list of the most romantic things to do on Whidbey Island Getaway!
Find more posts about Whidbey Island, Washington:
Whidbey Island Ferry : How to Take the Ferry to Whidbey Island + Ferry Schedules
Whidbey Island Breweries and Cideries
Whidbey Island Farmers Markets
Things to do in Oak Harbor, Washington on Whidbey Island
Best Restaurants in Oak Harbor, Washington