30 Magical Places for Your Washington State Bucket List
Unveiling the Ultimate Washington State Bucket List: 50 Magical Places to Explore
If you're dreaming of exploring a destination that combines natural wonders, vibrant culture, and endless adventure, look no further than Washington State. Our Washington State bucket list will guide you to the must-visit spots that showcase the true essence of the Evergreen State.
From the vibrant cityscapes of Seattle to the rugged beauty of our beautiful National Parks, this Pacific Northwest gem has it all.
Disclaimer: This post may contain affiliate links. This means that I may earn a commission if you make a purchase through my links. This is at no extra cost to you. View our full disclosure here.
Embark on an Adventure: The Essential Washington State Bucket List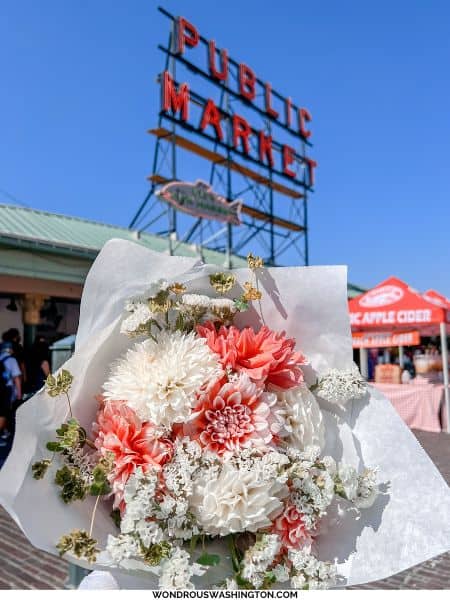 Explore Pike Place Market in Seattle
Pike Place Market houses a diverse array of farmers, artisans, entrepreneurs, and locals. In addition, it boasts a culinary scene that showcases some of Seattle's finest dining establishments.
Indulge in farm-fresh fruits, vegetables, and artisanal goodies, while supporting local farmers and businesses.

Tip: Arrive early in the morning to beat the crowds and have the first pick of the freshest produce.
Diablo Lake
Diablo Lake is renowned for its mesmerizing turquoise waters surrounded by majestic mountains and lush forests. Visitors can enjoy boating, kayaking, hiking, and fishing, immersing themselves in the natural wonders of the area.
To truly capture the essence of Diablo Lake's beauty, make sure to go to the Diablo Lake Overlook. From this elevated vantage point, you'll be treated to a breathtaking panoramic view of the lake, mountains, and surrounding wilderness, creating an unforgettable sight that will leave you in awe.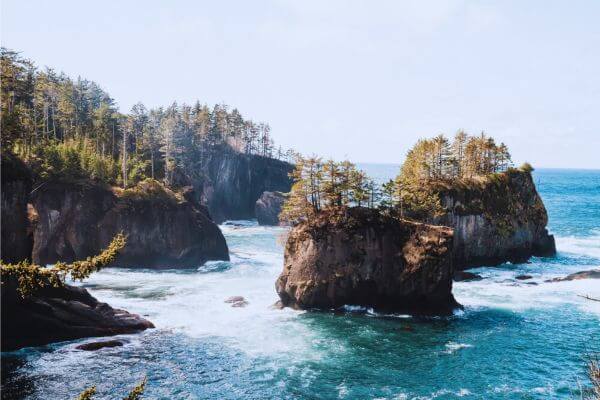 Cape Flattery
Cape Flattery is a truly special destination located in the Olympic Peninsula of Washington State and is on our list of the most beautiful places to visit in Washington State.
It offers dramatic cliffs, stunning sea stacks, and breathtaking views of the Pacific Ocean. The raw and untouched nature of the area creates a unique and awe-inspiring atmosphere.

Hoh Rainforest
The rainforest is home to stunning sights and scenic beauty. From towering trees to sparkling streams, the Hoh Rainforest offers picturesque vistas at every turn. The Hall of Mosses trail, in particular, takes you on a magical journey through a moss-draped wonderland.
Tip: The rainforest lives up to its name, and it's essential to have waterproof clothing and footwear to stay dry and comfortable.
Leavenworth
Leavenworth is a charming Bavarian-inspired town nestled in the picturesque Cascade Mountains of Washington State. From the dazzling Christmas Lighting Festival to the vibrant Oktoberfest, the town comes alive with music, dancing, and traditional Bavarian merriment at all times of the year.
Leavenworth is home to an array of delightful eateries, ranging from charming cafes to cozy beer gardens and authentic German restaurants. Indulge in mouthwatering bratwurst, hearty schnitzel, and delectable pastries while savoring the flavors of Bavaria.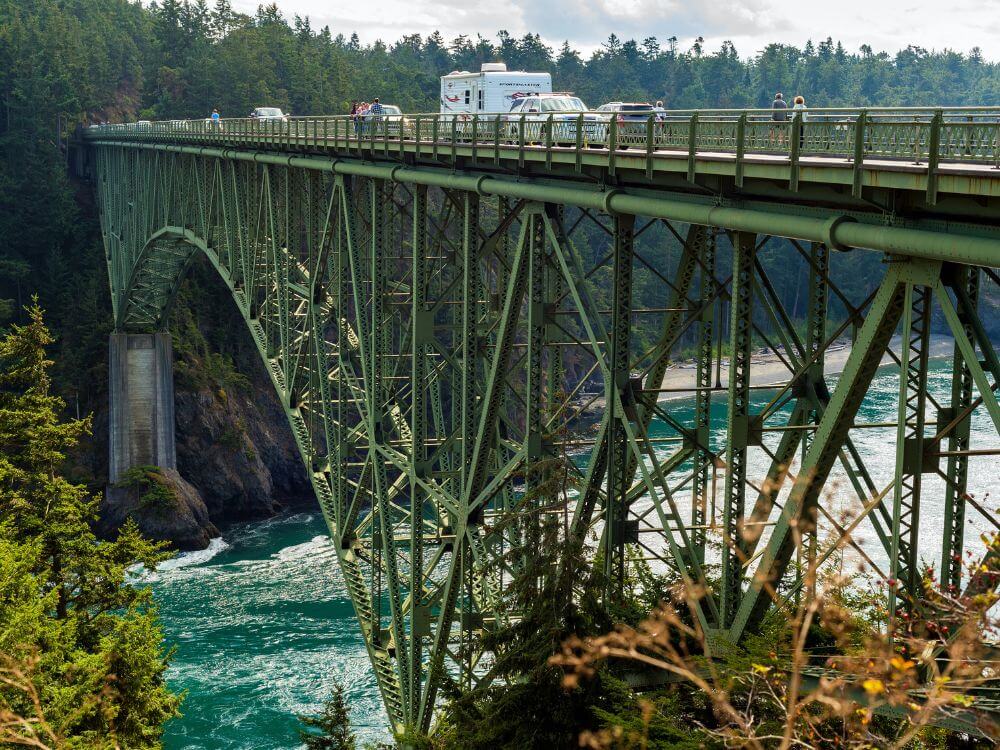 Deception Pass State Park
Deception Pass is a must-visit for your Washington State bucket list.
This state park is a true treasure trove of natural wonders, but undoubtedly, its crown jewel is the breathtaking Deception Bridge, which connects Whidbey Island and Fidalgo Island.
As residents of Whidbey Island, we are lucky to live right by Deception Pass State Park and can attest to just how beautiful and awe-inspiring it really is. You can find a variety of scenic hiking trails that cater to all levels of fitness and interest. Don't miss the Goose Rock Trail, Lottie Point Loop Trail, and the Bowman Bay Loop Trail, which offer breathtaking vistas of the surrounding landscapes.
In fact, Whidbey Island itself is the perfect place for a day trip in Washington State with cozy small towns to explore and enjoy.
Tip: It's a good idea to arrive early, especially during peak seasons (summers and weekends), to secure parking and avoid crowds.
Skagit Valley Tulip Festival
The Skagit Valley Tulip Festival is a spectacular annual event held in the Skagit Valley region of Washington State. You'll find rows upon rows of tulips in various colors, creating a stunning visual display.
The tulips typically bloom from late March to early April, but the exact timing can vary depending on weather conditions. It's advisable to check the bloom status on the festival's website or contact the participating farms to ensure you visit during peak bloom.
Space Needle
The Space Needle is often the first thing that comes to mind for many people when they think of Seattle. A visit to the top of this historic landmark offers breathtaking panoramic views of Seattle and its surrounding areas. The observation deck provides 360-degree vistas, allowing you to see the city skyline, Elliott Bay, Mount Rainier, and the Cascade and Olympic Mountains.
The Space Needle is located in the Seattle Center, which is home to other attractions such as the Chihuly Garden and Glass exhibit, the Pacific Science Center, and the Museum of Pop Culture (MoPOP). Consider exploring these nearby attractions during your visit.
Don't miss out on the chance to have an amazing dining experience at SkyCity Restaurant! This place is extra special because it actually rotates, giving you incredible views of Seattle while you enjoy your delicious meal. It's a fun and unique way to dine that you definitely shouldn't pass up!
Rialto Beach
There are many beautiful Olympic National Park Beaches on the Pacific Coast that are truly mesmerizing and worth exploring. Rialto Beach is one of our favorites, situated right by the Quillayute River, which separates it from the Quileute Indian Reservation,
At low tide, you can hike 1.5 miles to explore the captivating Hole in the Wall formation. You can actually pass through the arch and discover an abundance of marine life, including starfish, anemones, and other colorful sea creatures. *Make sure to visit at low tide!*
Tip: Rialto Beach is located right next to First Beach in La Push which is another place you may want to check out if you want to do a Twilight tour in Forks!
Lake Crescent
One of my absolute favorite destinations on the Washington State bucket list is Lake Crescent. This stunning lake is incredibly mesmerizing and renowned for its crystal-clear waters. It offers the perfect setting to enjoy a warm summer day, where you can take a rejuvenating swim at Devil's Punch Bowl or Fairholme Beach on the lake's west side, or embark on an exhilarating kayaking adventure at Lake Crescent Lodge.
Columbia River Gorge
The Columbia River Gorge is a remarkable natural wonder that stretches along the border of Washington and Oregon.
The Washington side of the Columbia River Gorge showcases breathtaking landscapes that include towering cliffs, rugged canyons, and expansive river views.
The Washington side of the gorge is home to several stunning waterfalls that are worth exploring. Beacon Rock State Park features the picturesque Hamilton Mountain and Hardy Falls, offering scenic hikes and beautiful cascades.
Additionally, Cape Horn Trail treats visitors to panoramic views and glimpses of majestic waterfalls like Rodney Falls and Hardy Falls.

Picture Lake
Picture Lake is an iconic spot nestled in the majestic Mount Baker-Snoqualmie National Forest and is popular with both outdoor enthusiasts and nature photographers. The best part is that Picture Lake is easily accessible, located near the Mount Baker Highway (SR 542).
Picture Lake is renowned for its mirror-like reflections of Mount Shuksan, a majestic peak towering over the lake. The calm surface of the lake often creates a stunning mirror image of the mountain, resulting in breathtaking photo opportunities.
Tip: Visit in the early morning or late evening when the lighting conditions are ideal for photography.

San Juan Islands
The San Juan Islands encompass a group of islands located in the northwest corner of Washington' s Puget Sound. They are a must-visit destination for your bucket list in Washington.
The San Juan Islands are a prime destination for whale watching. The area is home to a large population of orcas (also known as killer whales).
Make the most of your time at this destination on your Washington State bucket list by island hopping. The San Juan Islands that you can travel to by ferry include San Juan Island (Friday Harbor), Orcas Island, and Lopez Island.
Tip: Make a ferry reservation in advance if you plan on taking a vehicle with you.
Salt Creek Recreation Area
Salt Creek Recreation Area in Port Angeles, Washington, is definitely worth visiting which is why it's on our Washington State bucket list.
The Salt Creek Recreation Area offers breathtaking coastal scenery with a panoramic view of the Strait of Juan de Fuca. During low tide, you can explore tide pools and encounter a diverse array of colorful sea creatures, such as starfish, anemones, crabs, and more.

Visit a Lavender field
The Evergreen State is filled with lavender farms and we highly recommend adding one to your bucket list for Washington if you are visiting during the summer. Lavender typically blooms in the summer months, specifically from late June to early August.
You can find many lavender farms in Sequim, along with lavender fields in Port Angeles, Mount Vernon, Coupeville, and Vashon Island.
Wine tasting
The state of Washington has gained recognition for its flourishing wine industry and abundant options for wine tasting. So, of course it is a must-have experience on your Washington bucket list, provided you are of legal drinking age, 21 years old and above.
Indulge in the vibrant wine culture and explore the diverse array of wineries that make Washington state a paradise for wine enthusiasts.
Some of the best places to visit for a wine tasting in Washington state are Yakima Valley, Walla Walla, and the Columbia River Gorge. Each of these regions offers unique wine experiences and picturesque landscapes.
Artist Point
Artist Point is a breathtaking destination located in the Mount Baker-Snoqualmie National Forest. This particular spot offers spectacular panoramic views of the surrounding mountains, including the majestic Mount Shuksan and the iconic Mount Baker.
One of the highlights that make this location truly special is the mesmerizing reflection of Mount Shuksan in the alpine lake below. This enchanting sight creates a surreal and awe-inspiring experience, especially during calm weather conditions.
Make sure to capture this breathtaking reflection in your photographs as it adds an extra layer of beauty to the already stunning scenery at Artist Point.
Long Beach
Long Beach is a charming coastal town on the southwestern coast of the state, filled with shops, restaurants, and a lively atmosphere. Enjoy fresh seafood, browse local galleries and boutiques, and experience the warm hospitality of the community.
It is the longest continuous beach in the world, stretching approximately 28 miles. Long Beach boasts miles of uninterrupted sandy shoreline, perfect for leisurely walks, beachcombing, and building sandcastles.
Mount Rainier National Park
Mount Rainier National Park is a remarkable destination with several noteworthy places to visit which is why it's on the Washington State bucket list. Here are a few of the best spots to check out:
Paradise is known for its breathtaking wildflower meadows during the summer months. Sunrise offers unparalleled panoramic views of the surrounding mountains and valleys. The vista from Sunrise Point is particularly awe-inspiring, especially during sunrise or sunset.
Grove of the Patriarchs: This enchanting area showcases an old-growth forest with towering, ancient trees, some of which are over 1,000 years old. The Carbon River Rainforest allows you to explore the dense forest, moss-covered trees, and the soothing sounds of the river.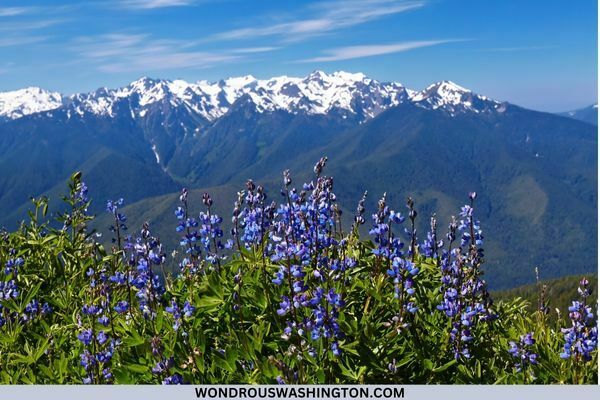 Hurricane Ridge
Hurricane Ridge is a captivating destination within Olympic National Park, known for its stunning beauty and a plethora of attractions. You can find a diverse array of wildlife including mountain goats, black bears, deer, and golden eagles.
There are great hikes to check out, and you can find incredible 360-degree views of Mt. Baker, Vancouver Island, and the Strait of Juan de Fuca.
Hurricane Ridge can be enjoyed during the warmer months, but is also a great place to visit during the winter to go skiiing and sledding.
Tip: Check the website to make sure Hurricane Ridge is open as it may close from time to time due to weather conditions.
Ross Lake
Ross Lake is located within the North Cascades National Park and is a special place to visit. The crystal-clear turquoise water is surrounded by towering mountains and lush forests, and is a sight for sore eyes.
You can enjoy all sorts of outdoor activities including boating, kayaking ,canoeling, paddleboarding, fishing, hiking, and canping.
One of our favorite places to visit is Ross Lake Resort where you can fully immerse yourself in the awe-inspiring beauty of the surroundings and create cherished memories by staying in one of their 15 floating cabins right on the lake! The resort gets booked up fast, but don't worry – you can also camp out or plan a day visit to the resort.
Palouse Falls
Palouse Falls is a hidden gem in Washington State that should be included on your bucket list for Washington State.. This 198-foot waterfall was formed by the melting waters of the last Ice Age.
Tip: The water flow of Palouse Falls varies depending on the season and weather. The best time to visit is during the spring when the rainfall and snowmelt contribute to a more robust waterfall.
Port Townsend
Port Townsend is a special seaport filled with Victorian architecture that makes you feel like you're stepping back in time as you stroll through the historic downtown area.
The town hosts various cultural events, festivals, and live performances throughout the year. You can find a variety of local cuisine and farm-to-table restaurants, and sample locally brewed craft beers and spirits.
Lake Chelan
Lake Chelan is a glacially-carved lake nestled amidst the picturesque North Cascades. The crystal-clear turquoise waters are surrounded by majestic mountains, lush forests, and breathtaking landscapes.
At Lake Chelan, you can find all the usual recreational activities such as boating, fishing, kayaking, paddleboarding, hiking, biking, and swimming. Lake Chelan is also a great place to visit wineries and vineyards to indulge in wine tasting.
Cherry blossoms
Washington State is renowned for its stunning cherry blossoms that paint the landscape in vibrant shades of pink and white during the spring season. This is why visiting the cherry blossoms during the spring is on the bucket list for Washington State.
The University of Washington in Seattle is home to one of the most iconic cherry blossom displays in the state. The Quad, a central area on campus, becomes a breathtaking sight as cherry trees burst into bloom, creating a stunning canopy of blossoms. (See photo above!)
Some other places you can find them are at the Washington Park Arboretum in Seattle, on Lake Washington Boulevard in Seattle, at the Japanese Gulch in Mukilteo, and at Bellewood Acres in Lynden.
Hot Springs
Washington State has a few different hot springs that you can visit. Hot springs are warm mineral-rich waters that can help you relax your muscles, relieve tension, and promote stress relief. Many hot springs contain minerals such as sulfur, calcium, magnesium, and potassium, which are believed to have various health benefits.
There are a few hot springs in Washington State that you could visit: Olympic Hot Springs, Sol Duc Hot Springs, Carson Hot Springs Resort, Goldmyer Hot Springs, Gamma Hot Springs, and Scenic Hot Springs.
Whale-watching
Embark on a thrilling whale-watching excursion along the Washington coast or in the San Juan Islands. Witness majestic orcas, humpback whales, and other marine wildlife in their natural habitat.
Whale-watching is a great and thrilling activity for adults and children alike, and definitely worth a spot on your Washington State bucket list.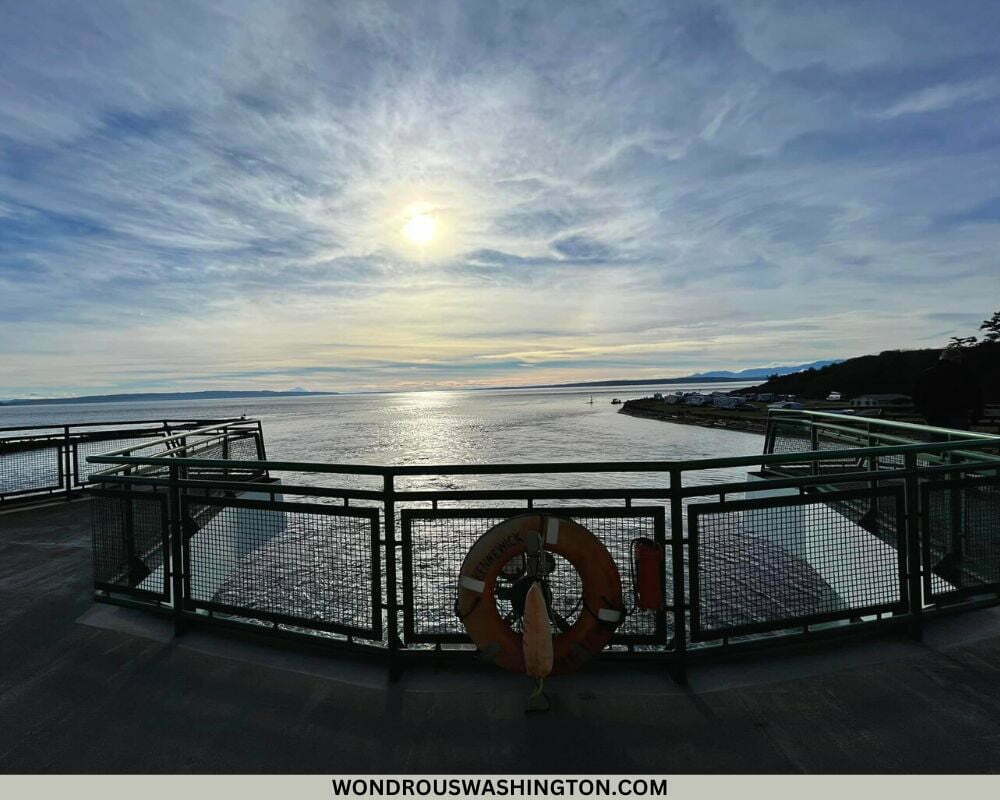 Ferry ride
Taking a ride on the Washington State ferry is a must for any Washington State bucket list. And there are many different ferry routes to choose from.
A few of the many routes include Seattle to Bainbridge Island, Mukilteo to Clinton (Whidbey Island), Anacortes to San Juan Islands, Coupeville to Port Townsend, Point Defiance to Vashon Island, and more.
Capitol Hill
Capitol Hill is a vibrant neighborhood in Seattle known for its lively atmosphere, eclectic shops, restaurants, and nightlife. If you enjoy exploring local culture, then adding Capitol Hill to your Washington state bucket list could be a great choice.
Your Washington State Bucket List Awaits!
This Washington State bucket list represents just a glimpse of the incredible experiences and adventures that await you in this diverse and captivating region. Get ready to check off those bucket list items and immerse yourself in the magic of Washington State. Happy exploring!