16 Best Things to Do on Whidbey Island [Local Guide]
The top things to do on Whidbey Island day trip from a local resident.
There are so many wonderful things to do on Whidbey Island Washington that we fell in love with it and stayed. Whether you want take a Whidbey Island day trip or spend multiple days on Whidbey Island, you'll be prepared to make the most of your time here with our ultimate guide.
Whidbey Island is a magical place, full of beauty and comfort. There are many things to do on Whidbey Island, with miles of land to explore. It's hard to narrow down a list for a Whidbey Island itinerary because there's so many great things you can enjoy here.
Visiting Whidbey Island, Washington soon? Follow us on Instagram where we feature the best local businesses, restaurants, events, and things to do!
Whidbey Island may not have the conveniences of big box stores, but it more than makes up for it with a strong community of local businesses. From farm-fresh produce and locally-sourced seafood to award-winning wines and spirits, Whidbey Island is a hub of local talent and creativity. You can also find many artists, musicians, and writers that live on the island, as well!
What to Do on a Whidbey Island Day Trip
We have created a guide to making the most of your time here on Whidbey Island. Whether you want to come for a Whidbey Island day trip, or prefer to spend 3 days on Whidbey Island or more, you will find unique and exciting things to do here on this majestic island.
Planning a trip with your signifcant other? Make sure to check out our list of romantic things to do on Whidbey Island.
Whidbey Island is also home to many local events and festivals during the year. You can visit our post about annual Whidbey Island events and festivals.
Best Things to do on Whidbey Island
These are some of the best things to do on Whidbey Island! Whether you want to explore the pristine natural beauty or savor the local culinary delights, Whidbey Island has something for everyone.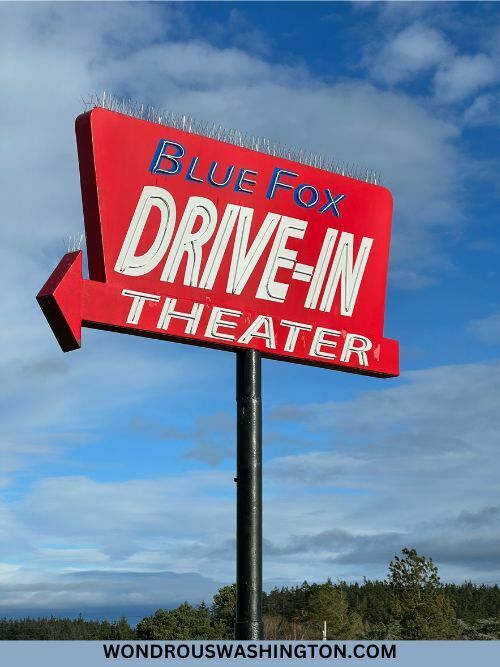 Spend an evening at the Blue Fox Drive-In theater
There aren't many drive-in movie theaters that are still operating in the US. The Blue Fox Drive-In gives you all of the old time feels, with an one-in-a-kind movie-going experience. It is one of the best fun family things to do on Whidbey Island.
Arrive early and play in the arcade, ride the go-karts, and grab a drink at their tavern. Then you can decide if you want to eat dinner there, or just grab popcorn, soda, and other yummy snacks from their snack bar.
Their admission fee covers a double-feature movie that begins at sundown. You can enjoy a movie seven days a week during the summer months, and on the weekends only during the rest of the year.
You can learn more about the Blue Fox Drive-In and find out what movies are playing here.
Visit Deception Pass State Park
Visiting Deception Pass State Park is a must for any first-time visit to Whidbey Island. Deception Pass Bridge is a two-lane bridge on Washington State Route 20 that connects Whidbey Island to Fidalgo Island. This bridge just celebrated its 100th anniversary in 2022.
You can walk across Deception Pass Bridge and take in the incredible views, or do one of the many hikes around it.
You will need a Discover Pass to park, which is $30 for the year, and $10 for the day. If you plan on visiting more Washington state parks during your vacation, it may be worth it to invest in the annual pass.
There are also Washington Discover Pass Free Days, where you can visit the state parks for free.
Visit Bayview Farmers Market

Whidbey Island is filled with farms for miles. During the warmer months of the year, you can visit one of the Whidbey Island farmers markets, where all of our local farmers, artists, and craftsmen come together to sell their products in one convenient place. They typically run from April through October, but also open for a handful of holiday markets in winter.
Our favorite farmers market to visit is the Bayview Farmers Market in Langley, as it offers a diverse range of vendors, making it a delightful destination to find various forms of local art, fresh produce, fruits, honey, and an array of other enticing items.
Visit a farm stand
Even if there isn't currently a farmers market running when you are visiting from out of town, you can find many farm stands along the island that offer fresh produce, flowers, eggs, meat, and more. They typically run on a honor system, that allow you to purchase what you need and leave money or pay using something like PayPal or Venmo.
Make sure to check ahead to see if they are open. Here you can find a complete list of Whidbey Island farm stands.
We recommend this item on the list as a must-do on a Whidbey Island day trip, because it's the best thing you can do for our economy and your health. Eating local is always healthier and you would be supporting our island, at the same time.
Visit Greenbank Farm
Greenbank Farm is hands-down one of our favorite places to visit on the island and we are always recommending it. From the wine tastings to the gardens to the incredible pie that must be tried, we guarantee you will also love it.
Greenbank Farm has a wine shop, a cafe, gardens to explore, an art gallery, a cheese shop, trails to discover, and more.
If you visit during the summer, make sure to try one of their wine slushies! We also recommend their Loganberry Wine and Loganberry Dessert Wine!
Take a hike
If you enjoy hiking, then Whidbey Island is a great place to explore. You can find miles of hiking to discover. Some of the most popular spots to hike are Deception Pass, Ebey's Landing, and Greenbank Farm. Whidbey Island's hiking trails promise an unforgettable journey into the heart of the Pacific Northwest's natural wonders.
Visit Fort Casey State Park and the Admiralty Head Lighthouse
One of the best Whidbey Island attractions to check out is Fort Casey and the Admiralty Head Lighthouse. We may be biased, but we think the Admiralty Head Lighthouse might be the prettiest of all the lighthouses in Washington.
Sitting at the edge of Ebey's Landing Historic Preserve, Fort Casey and its iconic Admiralty Head Lighthouse hold a captivating charm that's hard to match. Steeped in maritime history, Fort Casey's preserved bunkers and gun emplacements offer a fascinating glimpse into the island's past as a coastal defense outpost.
And when it comes to picturesque beauty, the Admiralty Head Lighthouse stands as a beacon of elegance, its white-washed walls and classic design creating a postcard-worthy scene against the backdrop of the Salish Sea.
The lighthouse's strategic location also affords visitors breathtaking views of the surrounding waters and the Olympic Mountains beyond.
Explore the murals
Whidbey Island is filled with beautiful murals all over the island. One of the best places to find them is in historic downtown Oak Harbor.
Here you'll find the Allgire Project – a collection of murals that are all in one convenient place to browse and explore. Each of these murals holds a unique piece of Oak Harbor's history, portrayed through their vibrant and captivating depictions.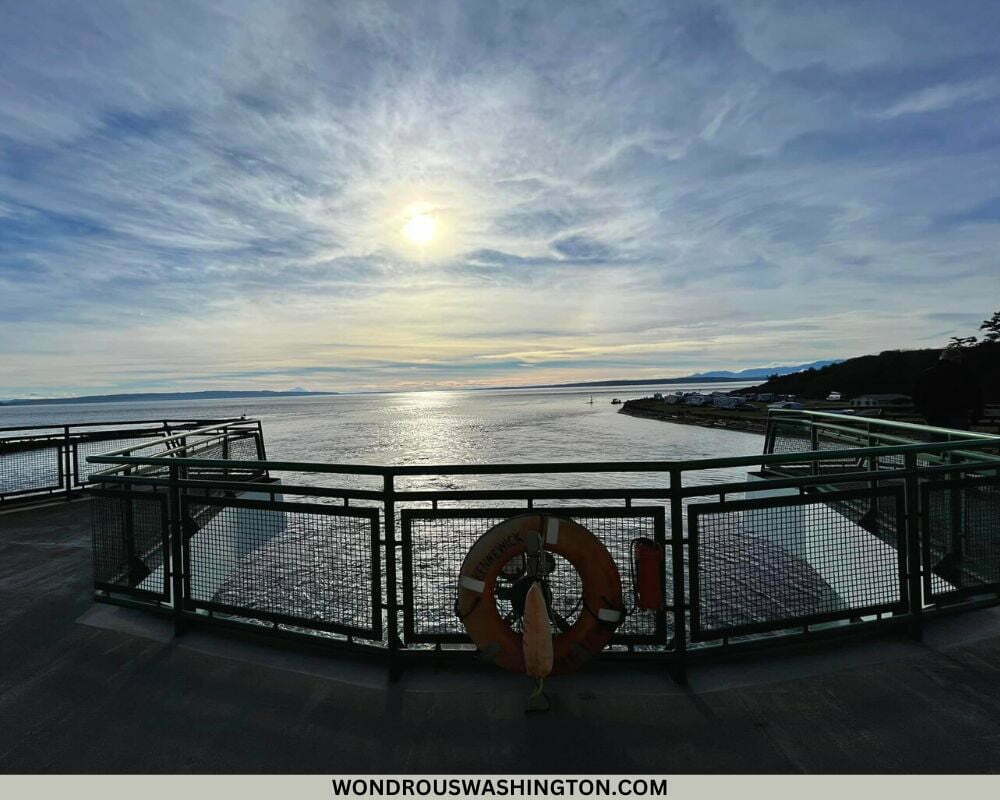 Take the ferry
Depending on which way you are getting on the island, you may not take the ferry. If you don't take the ferry to get on the island, and are staying for more than a day trip on Whidbey Island, then you might want to take a ride on the ferry to visit some of our nearby towns.

We have two Whidbey Island ferries, one that leaves from Coupeville and goes to Port Townsend. The second ferry leaves from the south end of the island in Clinton and goes to Mukilteo, just north of Seattle.
Make sure to check the Whidbey Island ferry schedules ahead of time to plan your trip accordingly.
Go kayaking or sailing
One of the best things to do on Whidbey Island is to go kayaking or sailing. Whidbey Island Kayaking offers guided tours led by knowledgeable locals, ensuring a safe and informative exploration of the area's aquatic marvels.
Alternatively, if sailing is your passion, the island's steady winds make it an idyllic destination to hoist the sails and set off on a leisurely cruise with the Schooner Suva.
Visit Wineries and Breweries on Whidbey Island
During your visit to Whidbey Island, you'll discover a diverse array of options to enjoy alcoholic beverages if that piques your interest.
We have a few local Whidbey Island Breweries and Cideries that are definitely worth a visit. If you are looking for a different yet equally delightful experience, consider stopping by Hierophant Meadery, where you can savor the ancient allure of this honey-based beverage.
And if wine is more to your taste, there are several charming local Whidbey Island Wineries, where you can relish the fruits of local vineyards and take in the scenic beauty of the surroundings.
Another one of the best things to do on Whidbey Island is to visit Skein and Tipple. This charming yarn store in Clinton transforms into a cozy bar in the evening that features local musicians and creative craft cocktails prepared from island-sourced ingredients.
Enjoy local cuisine + famous Penn Cove mussels
As you embark on your Whidbey Island day trip, you'll discover that Whidbey Island's commitment to locally sourced ingredients not only tantalizes your taste buds but also supports the community's farmers and producers.
This commitment is a cornerstone of our culinary scene, which is truly a treasure trove owing to the abundance of farms and local eateries that grace our community.
Find the best restaurants in Oak Harbor and make sure to try our famous Penn Cove mussels before you go!
Visit the Coupeville Wharf and explore Front Street
A visit to downtown Coupeville will be one of your favorite things to do on Whidbey Island. This town might look familiar to you as it was the filming location of Practical Magic.
Front Street, the heart and soul of Coupeville, is a delightful haven that embodies the essence of Whidbey Island's warmth and creativity. Lined with an eclectic array of shops, boutiques, and eateries, this charming street invites you to wander and discover.
Make sure to set aside time to explore the iconic Coupeville Wharf, where the soothing sounds of the water and breathtaking views create a serene escape.
Additionally, don't miss the chance to immerse yourself in the island's rich history by visiting the Island County Historical Museum, where captivating exhibits and engaging narratives bring the past to life.
Find more things to do in Coupeville, Washington.
Explore downtown Langley
Including a visit to the town of Langley is an absolute must for your Whidbey Island day trip. Nestled by the seaside, Langley exudes undeniable charm and offers an array of delightful activities.
Immerse yourself in the town's inviting ambiance as you explore an eclectic mix of restaurants and shops. Uncover the island's creative soul by taking a leisurely stroll through the local galleries, where you'll find an enchanting showcase of captivating artworks waiting to inspire you.
And don't forget to keep an ear out for the bell – it's your chance to join the excitement by giving it a ring whenever a playful whale makes an appearance, adding an extra dash of magic to your Langley adventure!
Visit Ebeys Landing National Historical Reserve
Ebey's Landing is renowned for its breathtaking views of the Puget Sound, the Olympic Mountains, and the surrounding countryside. The popular Ebey's Landing Trail offers an iconic hike along the bluff overlooking the Sound, providing spectacular vistas.
The beach at Ebey's Landing offers a serene and peaceful atmosphere, making it an ideal place to unwind and enjoy the soothing sounds of the waves.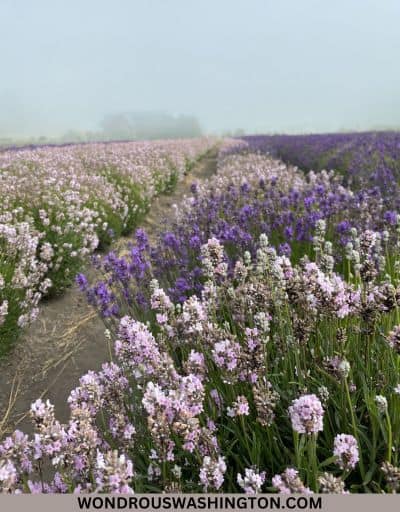 Visit a lavender farm
Did you know that Whidbey Island has its very own lavender farm? Tucked away in the charming town of Coupeville, the Western Sun Lavender Farm (formerly known as Lavender Wind Farm) invites you to step into a realm of natural beauty during the summer months.
Make sure to make time to visit on your Whidbey Island day trip to immerse yourself in their breathtaking lavender fields that unfold in a visual symphony of color and fragrance.
To find information about their availability and if the lavender is in bloom, check out their website.
Find more lavender farms in Washington State.
How to Get Around Whidbey Island
You will definitely need a car to get around Whidbey Island. It takes nearly a hour to get from the north end of the island to the southern tip.
You can also ride the Island Transit Bus for free on the island. Island Transit offers a variety of routes that will take you all over the island.
Where to stay on Whidbey Island
Here are some places you can stay at while visiting Whidbey Island, offering a range of accommodations that cater to various preferences and budgets.
Learn more about Whidbey Island Washington before your visit.
We hope you enjoy these things to do on Whidbey Island! What's your favorite thing to do on a Whidbey Island day trip?