17 Best Things to Do in Coupeville Washington [Local's Guide]
A Local's Guide to the Best Things to Do in Coupeville Washington.
The town of Coupeville Washington is known for its beautiful waterfront, unique shops, and fresh seafood. We've curated a list of the best things to do in Coupeville Washington – from a local who lives on the island.
Coupeville is a historic town located on Whidbey Island in Washington State. It is a beloved destination for visitors looking to explore its rich cultural heritage and experience its charming small-town atmosphere.
With plenty of activities and attractions both around town and nearby, it's the perfect place to spend a weekend getaway. Whether you're planning a family vacation or just looking for a relaxing escape from the hustle and bustle of city life, you'll love exploring this beautiful town on Washington's Whidbey Island.
Facts and History about Coupeville Washington
Established in 1881 as the county seat of Island County, it has grown from its small beginnings to become an important part of the local community. It is the second oldest town in Washington and is known for its historic architecture and picturesque waterfront veiws.
Located on Front Street, the Coupeville Wharf is one of the most notable landmarks in town. Built in 1905, it was used to ship goods and supplies. It now serves as a popular tourist destination, as visitors can enjoy their coffee shop, restaurant, gift shop, kayak rentals, and more
As of 2021, Coupeville Washington has a population of 1,957 people, according to the United States Census Bureau. Coupeville, Washington has less rain and more sun than Seattle, and is one of the best places to live in Washington State.
What is Coupeville known for?
Coupeville rests on Penn Cove, where some of the most delicious mussels are grown and harvested. Penn Cove Mussels have won international mussel taste contests.
Did you know that the beloved 90's movie Practical Magic was filmed in Coupeville, Washington on Whidbey Island? You can relive the cult classic as you stroll down Front Street and imagine the Owens sisters casting spells.
How did Coupeville get its name?
According to Britannica, Coupeville was originally named the Port of Sea Captains for the retired mariners who settled there. In 1852, it was renamed after Captain Thomas Coupe.
How to get to Coupeville Washington
To get to Coupeville, Washington, there are a few transportation options depending on your starting point. Here are some common ways to reach Coupeville:
By Car:
From Seattle: Take I-5 North and continue onto WA-20 West (North Cascades Highway) towards Whidbey Island. Follow the signs for Coupeville as you reach the island.

From Everett: Take I-5 North and then take Exit 189 for WA-526 West towards Mukilteo. From Mukilteo, board the Washington State Ferry to Clinton on Whidbey Island. Once on the island, follow the signs to Coupeville.

By Ferry:
From Mukilteo: If you prefer to travel by ferry, you can board the Washington State Ferry at Mukilteo and sail to Clinton on Whidbey Island. After disembarking, drive north on WA-525 and follow the signs to Coupeville.
Find the Coupeville ferry schedule.

By Bus:
Island Transit: The Island Transit system operates bus services on Whidbey Island. You can check their website for bus routes and schedules that serve Coupeville.

By Air:
Closest Airports: The nearest major airports to Coupeville are Seattle-Tacoma International Airport (SEA) and Bellingham International Airport (BLI). From there, you can rent a car or take a shuttle service to Coupeville.
Things to do in Coupeville, Washington
There are plenty of things to do in Coupeville, WA, whether you're looking for a relaxing day outdoors or an exciting adventure. Here are some of the best things to do in Coupeville.
Visit the Coupeville Historic Waterfront
The Coupeville Historic Waterfront is a great place to learn about the history of the town and see some beautiful views. There are also several shops and restaurants located along the waterfront that you can browse, and you can walk down to the Coupeville Wharf.
Sip on some local wine
There are several wineries on Whidbey Island, and you can you can sip and savor the local wines while soaking up the stunning views. There are two wine tasting rooms in Coupeville, bayleaf and Vail Wine Shop & Tasting Room.
Bayleaf is a food and wine specialty store that sells sweets, cheeses, wine, bread, gits, and more. They also offer wine by the glass, wine flights, and small bites on Thursday and Friday evenings during the summer.
Sample the fresh seafood at one of the restaurants
Coupeville is known for its fresh seafood, so be sure to try it while you're in town! There are several restaurants that serve seafood, and you'll find something to suit your taste.
Some of the best local restaurants that we recommend are Front Street Grill and Toby's Tavern, which are both located on Front Street, and our personal favorite: Callen's Restaurant, which is by the Coupeville ferry dock.
Stroll through the farmer's market
The Coupeville Farmer's Market is a great place to get fresh produce and other local goods. You can also find arts and crafts, music, and more. It takes place on Saturdays from mid-April through September.
Attend a festival or event
Coupeville is home to many festivals and events throughout the year. There is always something going on, so be sure to check the calendar of events before you visit.
In the spring, you can attend Musselfest, which celebrates local Penn Cove Mussels. In August, you can attend the Coupeville Arts and Crafts Festival. This year Coupeville had their first Pride Parade and Festival in June.
Check out the complete list of Whidbey Island events and festivals.
Hike Ebey's Landing National Historical Reserve
One of the most popular outdoor activities in Coupeville is hiking the trails of Ebey's Landing National Historical Reserve. You can spend an afternoon beachcombing, and hiking the Bluff Loop Trail, which is a favorite for both tourists and locals.
Visit Fort Casey State Park
Fort Casey is a great place to fly a kite. Make sure to also explore Fort Casey to see the historic military site that was once active during both World Wars.
After you finish exploring the fort, you can head over to the Admiralty Head Lighthouse next door to learn all about its history and climb to the top for a stunning view.
Visit a farm stand
Coupeville is home to several charming farm stands where you can find an abundance of locally grown fruits, vegetables, herbs, and flowers, each bursting with flavor and harvested at their peak.
These farm stands are a true treasure trove for food enthusiasts and nature lovers, offering a delightful experience of discovering the freshest produce straight from the earth.
Treat yourself to juicy strawberries, plump tomatoes, fresh produce, fragrant herbs, and more — all locally grown and bursting with flavor. These farm stands proudly display the best produce from our fertile lands, giving you a true taste of our region's bounty.
3 Sisters Market
Perhaps my favorite place in Coupeville is 3 Sisters Market. This cozy little spot holds a special place in the hearts of us locals.
At 3 Sisters Market in Coupeville, you can truly experience the essence of our local community through an incredible selection of locally sourced foods and products. 3 Sisters Farm offers grass fed beef and lamb, chicken eggs, and more which are sold at the market.
Essentially, 3 Sisters Market is a grocery store in Coupeville that features products from local vendors both from Whidbey Island and Washington State. You can find some of the best and freshest products from the island and nearby regions.
Schuvers Sailing
Taking a sail aboard Schooner Suva is a delightful way to spend your afternoon, especially if you're seeking an enjoyable experience on the water.
Schooner Suva typically sets sail on Friday evenings, along with regular departures on Saturdays and Sundays, ensuring multiple opportunities to enjoy a memorable voyage.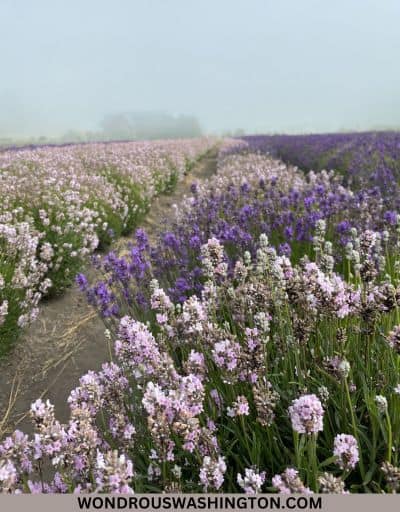 Western Sun Lavender farm
Embarking on a trip to Western Sun Lavender Farm presents an incredible opportunity to immerse yourself in the enchanting scent and vivid hues of flourishing lavender.
Western Sun Lavender Farm (previously Lavender Wind Farm) is typically open for lavender u-pick from late June to August. You can find them oepn on Wednesdays through Sundays typically but make sure to check their website for the most recent updates.
Visit Lavender Wind store
Do you love lavender? Make sure to stop in at the Lavender Wind store, where you can find all sorts of cool products and sweets that are made with lavender.
You can find a wide variety of household and personal care products, essential oils, fresh cookies, bath salts, handmade lotion, lavender baking extract, cooking herbs, lavender jam, lavender tea, and more.
Each of my kids has a stuffed bulldog that is filled with lavender, and we also have a bottle of "Monster Spray" that we spray in the closet and around the room to help our kids sleep at night.
Enjoy a brew from Penn Cove Brewing Company and Greenbank Cidery
We have quite a few Whidbey Island breweries to explore in our neck of the woods, but in Coupeville you can check out Penn Cove Brewing Company for a craft brew or Greenbank Cidery for a glass of locally-made cider. Both are equally refreshing!
Take a class or grab art supplies at Meet Market
Meet Market is an art store on Front Street in Coupeville. Inside you can find art supplies for purchase, and they also have classes you can join on occasion. You can find cool art classes for teens, pottery classes, heart journaling classes, and other interesting ways to get creative with the local community.
Visit an indie bookstore and stay for storytime
Booktok fans will love visiting our indie bookstore on the Coupeville waterfront. Kingfisher Bookstore is a two story bookstore with many books to browse and choose from.
Do you have little ones? Bring them to Sunday Storytime every Sunday morning at 10 AM to listen to one of the bookstore employees read an exciting children's story, and then they can create do an arts and craft activity following the story.
Want to know what story they are reading ahead of time? Check out their Instagram account the night before to watch a silly video of them introducing the book that they will be reading on Sunday.
Learn about the history of Coupeville and Whidbey Island at the Island County Museum.
Step back in time and explore Whidbey Island's fascinating history at the Island County Historical Museum in Coupeville. Get ready to geek out over cool stuff like Whidbey Island's very first car and a vintage telephone switchboard. It's a trip down memory lane you won't want to miss!
Take the Coupeville ferry over to Port Townsend for an afteroon.
A trip to Coupeville Washington wouldn't be complete without taking a ferry ride! It's your chance to sail across the beautiful waters of Puget Sound, taking in the jaw-dropping views of the nearby islands and stunning coastal scenery.
The Coupeville ferry connects to Port Townsend, which is a charming Victorian town that you can spend a day exploring. You can drive your car on to the ferry (make sure to make a reservation first!) or you can walk on and explore by foot.
Find the Coupeville – Port Townsend ferry schedule.
Want to explore the rest of the island? Make sure to check out our list of things to do in Oak Harbor, and our favorite local restaurants in Oak Harbor,