5 Reasons Why You Should Visit Washington State on Your Next Trip
Visit Washington State on your next vacation.
Whether you're looking for breathtaking natural scenery, exciting city life, or a little bit of both, when you visit Washington State, you won't be disappointed.
Is Washington State worth visiting?
We may be biased, but we vote YES! Absolutely! Here are 5 reasons why you should add the state of Washington to your travel bucket list:
1. Washington State is home to some of the most breathtaking scenery in the country.
2. There's something for everyone – whether you love hiking and being outdoors, or prefer shopping and checking out art galleries, you'll find what you're looking for in Washington State.
3. The food scene is incredible!
4. The climate is pretty perfect – while it can rain often in some parts of the state, overall the weather is mild and temperate, making it a great destination year-round.
5. There's always something going on. From music festivals to farmers markets, there's always something happening around the state.
5 Reasons to Visit Washington State
What's not to love about Washington State? We have to admit, we are kind of obsessed with this magical place. The Emerald City, stunning landscapes, and some of the best seafood, wine, and coffee in the country – there's so much to explore and discover in our favorite state!
You'll fall in love with the natural beauty.
From snow-capped mountains to the pristine waters of Puget Sound, there's something for everyone to enjoy outdoors. Washington State is a truly special place that has so much to offer.
Enjoy the lush forests and stunning beaches of Olympic National Park, or spend an afternoon exploring Mount Rainier on foot among meadows of wildflowers.
Take a ferry across Puget Sound for some whale watching and to explore some of our beautiful Washington islands. Whichever adventure calls your name, Washington state is sure to deliver!
Washington State has plenty of activities and attractions to keep you busy.
Washington State provides the perfect setting for outdoor adventure. Whether you're looking for an adrenaline-pumping climb up a steep mountain peak or a leisurely stroll along a sandy beach, our state has it!
Take a trip to Whidbey Island to discover an island that is filled with quaint shops and stunning art galleries from local artists. Visit the Emerald City to shop at Pike Place Market or take in the view at the top of the Space Needle.
You'll fall in love with the diverse environment of Washington, where each area is overflowing with breathtaking beauty and plenty of activities for everyone to enjoy.
Enjoy the incredible and diverse food scence of Washington.
If you are a foodie, then you are in for a treat! Washington State is renowned for its world-class wines, craft beers, and coffee scene.
With fresh seafood straight from Puget Sound and the Pacific Coast, and numberous farm-to-table dining options abound, there's no shortage of delicious eats either.
Washington has many farms that produce locally-grown fruits and vegetables available year-round. Go on an oyster road trip to experience some of the best fresh seafood around or explore Pike Place Market to stock up on local produce, cheese and meats. Don't forget to try the world famous Penn Cove Mussels from Coupeville, as well.
You're guaranteed not to go hungry in Washington State!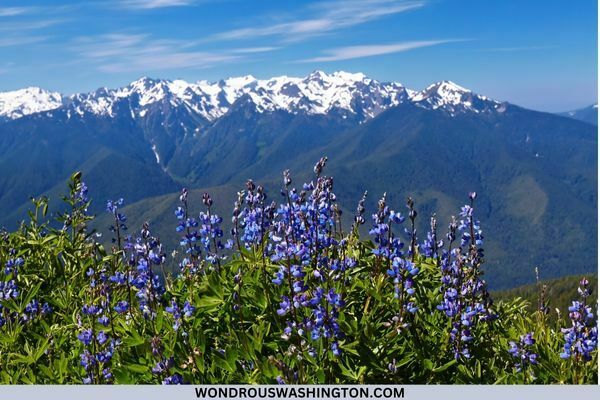 Washington has great weather, year-round.
Washington boasts a climate that makes visiting any time of year enjoyable. Thanks to its temperate weather patterns and mild temperatures, visitors can usually enjoy beautiful sunny days throughout much of the year.
On occasion it does rain in certain parts of the state, but generally it's enough to enhance the area's natural systems without making travel plans difficult to manage.
The best time to visit Washington State is from July through September. During the summer, temperatures are in the 70's and 80's, making it a popular time to travel.
With its great climate, Washington is one of those destinations where you can always count on a perfect getaway experience.
Washington has many festivals and annual events to keep you entertained no matter what season you visit.
The vibrant culture of the state is unlike any other and it's always buzzing. Whether you prefer cultural events like art galleries openings or music festivals, there's an endless selection of activities to choose from.
If a more relaxed atmosphere appeals to you, farmer's markets are a great way to appreciate local produce and crafts while also supporting small businesses in the community.
No matter which option you go with, it's guaranteed that there's never a dull moment in the state – something new and exciting is always going on.
Why Visit Washington State?
Washington State is a truly magical place that has something for everyone. From its natural beauty and endless activities to its friendly people and affordable prices, there's no reason not to add it to your travel list. So what are you waiting for? Start planning your trip to Washington State today!
Visit Washington State on your next getaway!